RSS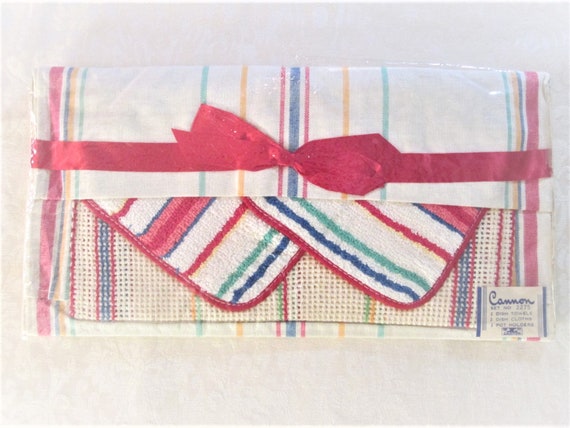 51.50 USD
This vintage Cannon gift set includes two striped kitchen towels, two pot holders and two dish cloths.

Adorned with primary colors, they are still wrapped in cellophane (which is a tiny bit torn), have never been used for their intended purpose and are in excellent condition.

A fun kitchen set as this will be a perfect addition to your vintage linens collection, to use with your retro decor and for gift giving.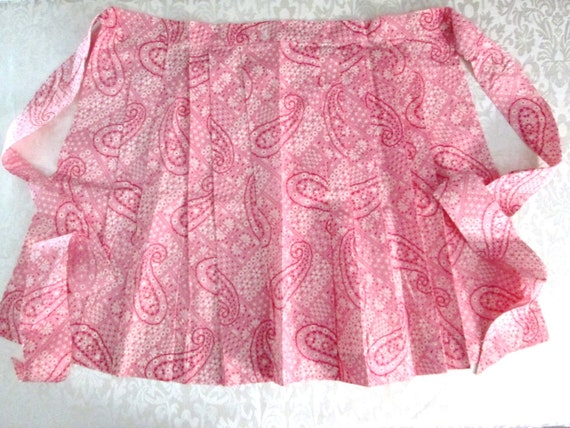 18.00 USD
This vintage half apron, with a pink, pleated paisley design, is in mint condition and will be perfect to add to your vintage kitchen linens collection.

It does not have pockets and is made of crisp cotton. When laid flat, the waist ban measures 20", each tie is 32", it's 19" waist to hem and flares to about 30" inches.

This textile treasure will be perfect for gift giving or to use as intended.

So pretty!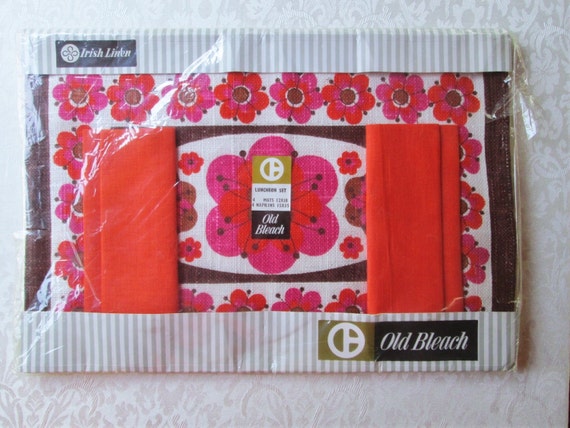 51.50 USD
This vintage placemat set comes with four mats and four matching napkins. They've never been used and have only been removed from the package for photographs.

With bright colors of pink, orange and brown they're from Old Bleach, are made of Irish Linen, the placemats measure 12"x18" inches and the napkins are 15"x15" inches.

They are in mint condition and will be perfect for your retro and bohemian décor.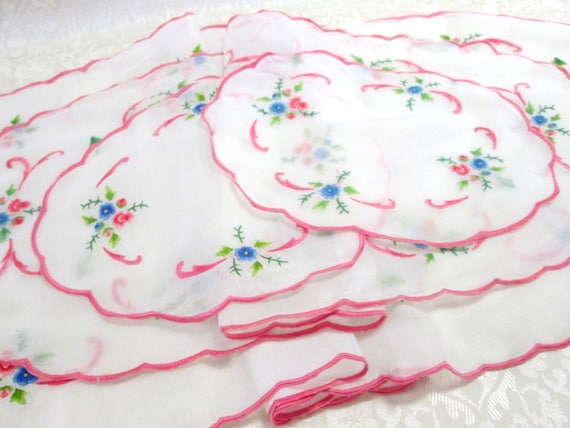 82.25 USD
These vintage table linens are a matching 4 piece pink table runner set which is hand embroidered on pure white, sheer organdy. These antique dresser scarves are embellished with flowers in blue and green floss with highlights of yellow. The stitching is meticulously worked on the best organdy fabric.

The largest scarf measures 16.5"x52" inches, the smaller scarf is 13.5"x35" inches and the two doilies are 9.5"x12" inches. There are two tiny specks on the smaller runner that is mentioned for accuracy. Other than that, the set is Pristine! Notice the edging. It has the prettiest, scalloped buttonhole stitching.

These textile treasures will be a perfect addition to your antique linen collection, for gift giving or to use as intended.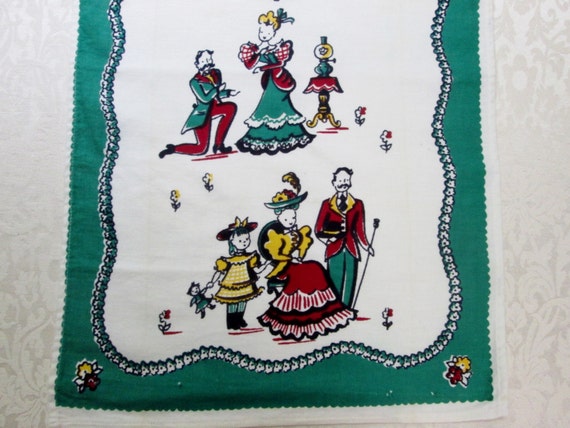 22.00 USD
This vintage tea towel was made by Broderie Creations.

It measures 15"x28" inches and has a printed design of a Victorian family as the husband proposes. It has bright colors in green, red and yellow with black highlights on a white cotton background .

There is a faint bit of storage dust on the fold, only noticed if held up through a bright light, and a few pulls or dye skips in the fabric on the bottom border as shown. There are No tiny holes.

The fabric is nice and crisp, the colors are bold, and this dish towel will be a perfect addition to your vintage linens collection and to use in your kitchen.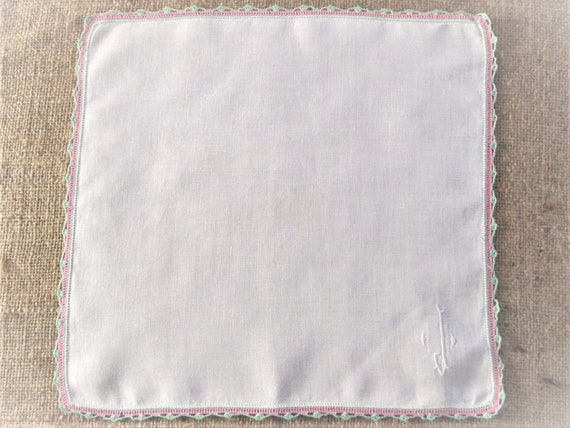 15.00 USD
This vintage handkerchief is embellished with an art deco J monogram in white embroidery floss, there are two rows of drawn work, and it's edged with green and pink crochet lace.

Expertly hand embroidered, the fabric is white linen, it measures 11" x 12" inches, and the corner monogram is 2" inches

It's in Pristine condition and this little hankie will be a perfect personalized gift or to add to your hankie collection.

So Pretty!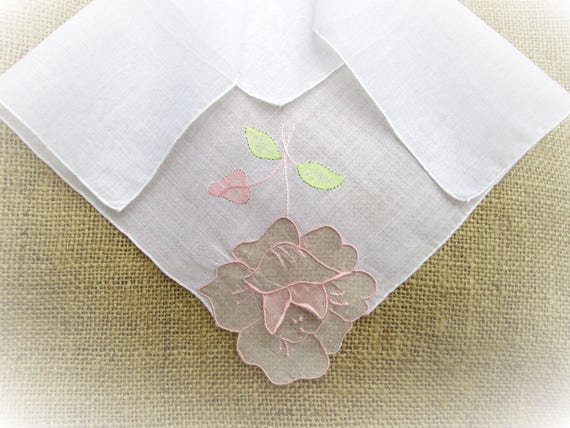 12.00 USD
This vintage handkerchief was hand embroidered on the Portuguese islands of Madeira by expert needle workers.

It's embellished with exquisite embroidery of a pink, floral, organdy insert and detached applique flower petals. Adorned with pin-stitched applique leaves and a hand rolled hem, the fabric is cotton and it measures 12"x 12.5" inches.

It's in Perfect condition and is just gorgeous!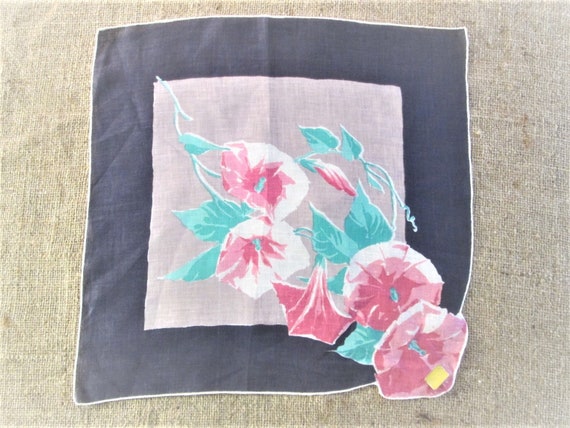 15.00 USD
This vintage handkerchief if made of pure linen.

It's adorned with gorgeous, pink and white moonflower, green foliage on a beige background, and is bordered in navy blue.

As it's never been used for its intended purpose, the color is bright, the fabric is crisp, and it still has the original Kimball tag.

Measuring 13.5" x 14" inches, it's in Pristine condition.

It's Perfect and is a lovely mid century accessory for your wardrobe.
18.00 USD
This vintage handkerchief is made of white linen, is hand embroidered with pin stitched applique, drawn thread work and the hem is hand rolled. It measures 10" inches square

In excellent unused condition, this antique hankie is perfect for a wedding and bridal gift, to add to your collection and to use as intended.

It's Perfect!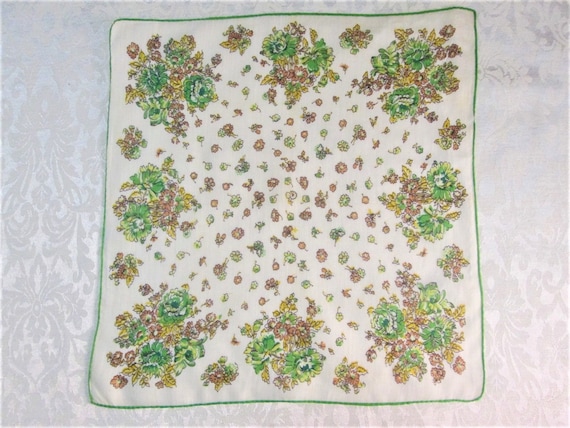 12.00 USD
This vintage handkerchief is adorned with green and brown flowers with highlights of yellow and black on a white background.

The hem is hand rolled, it's made of lawn linen and it measures 12.5" x 13" inches.

With bright color on crisp fabric there are no stains.

It's a lovely accessory for your vintage wardrobe and is in perfect condition.