The world of figurine collecting offers endless possibilities of styles and designers. In this article we will be talking about some popular figurine designers and learning more about their history.

Giuseppe Armani
Giuseppe Armani
Born in the town of Calci, in the Tuscan region of Italy, Armani, like many children, loved to draw, and he was remarkably adept at photo-realistic art. His father, realizing his son's gift, enrolled the boy in the Academy of Fine Arts in Florence.  Giuseppe Armani was a talented artist who created a great many extravagant figurines and statues in a variety of styles. 
For much of his life he designed numerous works for the Florence Sculpture d'Arte ranging from charming Capodimonte styled figurines to sculptures that featured a more modern, contemporary styling. 
In 1973, the Florence Studio started its activity as an artisan group. Shortly after, a co-operation with Giuseppe Armani began. The most important models in this first period were traditional items in "Capodimonte" style, series of children and collections of animals. 
In 1977, the new Studio was opened. Giuseppe Armani, most original and captivating collection was of children, entitled Introduction of "Gulliver's World", 1980. In 1982 a presentation of the "Valentine" line was created, which originated a new style in the representation of children. 
In 1986 a refreshing and sunny line, called the "Spring Melodies" ladies, were released. It's a classical theme that never declines. 
In 1987, "My Fair Ladies" collection conquers the world with Art Nouveau subjects full of charm and flair. This year, another special collection was introduced, named "Magic Memories", a classical theme.
Stylish and romantic, the striking figurines designed by Giuseppe Armani are true works of art in porcelain, produced by a master.  The impeccable detailing of these pieces, particularly in the draping and folds of clothing, is reminiscent of the great works of painters and sculptors of the Italian Renaissance. 
In later years he gained much acclaim for his collection of Disney figurines which depicted many of Disney's most beloved characters. Giuseppe's artistic creations continue to be hugely popular with collectors.
Goebel- Hummel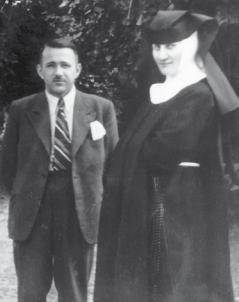 Franz Goebel and Sister Maria Innocentia Hummel

Back in the 1930's, a German Franciscan Sister named Sister Maria Innocentia Hummel began doing charming sketches of children. Her art became so popular that it got the attention of a porcelain maker named Franz Goebel. Soon the figurines had become popular in the US. They became even more popular at the end of WWII as American soldiers began to send the figurines home as gifts. 

Today the Hummel figurines are still produced and remain a popular collectors item. Different artists produce the figurines and many are signed by the artists. 
"Little Helper", "Diligent Betsy", "The Little Sister", is a h: 4 1/4" porcelain hummel figurine. She was made in 1960's by the master sculptor Reinhold Unger. On the bottom she has two numbers, 73 & 1. Little Helper is in perfect condition. She would make a perfect holiday gift or even a decoration for your own home. 

This is a rare Hummel figurine by Reinhold Unger entitled: Little Gardner
The Gardener was modeled in 1937 by Reinhold Unger. This version has a round base with a small flower. She is 4" tall and in great condition and has the number 74 on the bottom. 

1960's Goebel Hummel figurine entitled "Ride Into Christmas" by artist Gerhard Skrobek



"Ride Into Christmas" is a h: 5 3/4" rare porcelain figurine. This Hummel was modeled by master sculptor Gerhard Skrobek in 1971. "Ride Into Christmas" is perfect for a holiday gift or as a decoration in your own home. It is stamped with "Goebel" & "W.Germany" under it. On the bottom there are also the numbers 35, 396, & 1971.









You can purchase these Goebel Hummel figurines and more at: 
Lladro
Juan, José and Vicente Lladró in 1960
Lladró is a Spanish company based in Tavernes Blanques, Valencia, that produces many high quality porcelain figurines.
The company was founded in 1953 by three brothers: Juan, José and Vicente Lladró. They started in their small village just making pots and jugs, but then in 1956 they started making the beautiful sculptures for which they have became so popular. As they began to grow, they moved their operation to it's current location in Tavernes Blanques in Valencia, Spain. 
The ingredients that the brothers use to produce their porcelain and the glaze they use on it is an industry secret. This original technique gives Lladró porcelain a look like no other. 
The figurines all receive a Spanish name when they are made. They also receive an English name, but not necessarily an exact translation of it's Spanish name. Many times the figurines receive names in English that would more appealing to native English speakers. This being the case, many figurines have been given numerous names. 
www.auctiva.com" height="320" src="http://img.auctiva.com/imgdata/9/1/2/0/1/4/webimg/520270302_o.jpg" style="margin-left: auto; margin-right: auto;" width="246">
Lladró Egg Sculpture by Design and Decoration Dept. 1983-1993

"Painful Bear" Lladró sculpture by Juan Huerta 1978-1981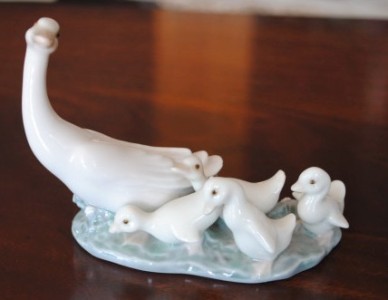 Lladró Ducklings by Juan Huerta 1974-1991
Jim Tirrenia