There's nothing better than obtaining an impressive piece of antique silver, and being able to proudly display it to the world. However, it is important that it gets the care it needs to stay looking silver, shiny and in presentation condition. Keep on reading for our top tips on how to clean antique silver!
Firstly, try and avoid overcleaning the piece. With antique silver, less is more! Regular, 'gentle' dusting is much better than infrequent, over-zealous cleaning. This will save both your time, and your silvers integrity.
Silver that is relatively clean doesn't require much attention. Simply use a clean, cotton cloth or feather duster, to remove dust and minor marks such as light fingerprints. If you want to go the extra mile, then breathe on the piece using a 'harring' motion. This will warm it up slightly, and ensure that any minor marks are properly taken care of.
When silver is tarnished, it can look slightly yellow in appearance. If this is the case, then your silver may require a slightly deeper clean than merely a cloth. Wadding such as 'Silvo Silver Polish Wadding made by Duraglit' is perfect for such occasions. Simply dab a tiny amount of this onto the piece and clean as described above. Remember, a little goes a long way! However, a note of caution: be careful when using silvo on heavily engraved or intricate pieces. If the wadding isn't buffed in properly, it could remain on the piece and gradually wear it away. Wadding such as this is most appropriately used on plainer pieces such as trays and salvers. 
However, this doesn't mean you should fear wadding, as it provides such exceptional results. Instead, simply cover up hallmarks using a sliver of sticky tape. This will temporarily protect them from wear while polishing. Don't forget to remove the sticky tape afterwards!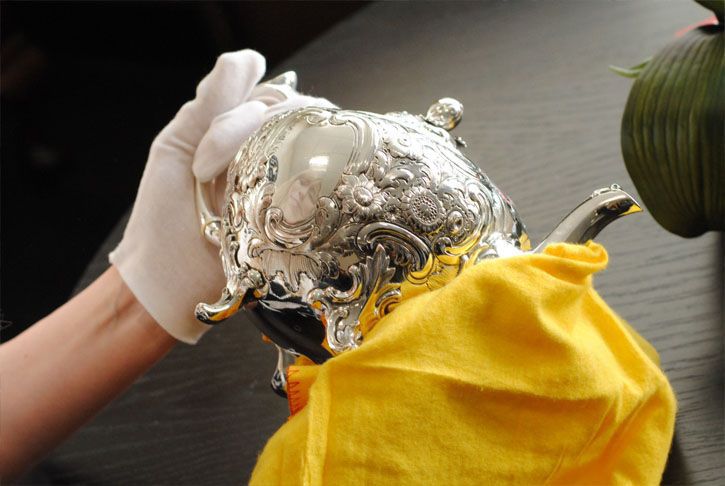 Here at AC Silver, we provide specialised cleaning cloths and silver storage bags (free of charge) with any item of silver purchased. These washable microfibre cloths are specifically designed for silver cleaning. They are fine grade, and perfect for cleaning antique silver pieces. The cloths are supplied in various sizes relating to the item(s) purchased. The quality silver storage bags are designed to not only protect your treasured items, but to significantly reduce tarnishing.
Canteens/Cutlery/Flatware
Some antique pieces truly benefit from frequent use. One example is silver flatware- a true investment when used regularly, which will bring pleasure for many, many years. This is because when flatware is used recurrently, tarnish is reduced and a patina is developed, which actually enhances the pieces beauty. It is important, however, to rotate pieces to ensure even patination to each item of cutlery.
Day to day, you can clean your antique flatware as you would any kitchen utensil. Wash it in hot, soapy water, then rinse in clean, hot water. You should do this fairly shortly after use, especially if the flatware has been in contact with any acidic or corrosive foods such as salt, mayonnaise or eggs. Don't soak the silverware for extended periods of time, as this could eventually damage the metal. Dry your flatware immediately, and use a soft cotton cloth in order to avoid spotting. If you're feeling lazy, then antique silverware can be washed in the dishwasher! Just ensure that you keep the detergent to a minimum, and never mix stainless steel and silverware as this could damage the silver pieces.
So there you have it- how to clean antique silver! We hope that these tips have been helpful to you, and that your silver remains sparkling. Do you have any silver cleaning tips? Let us know below!