A Brief History Of Navajo Native American Jewelry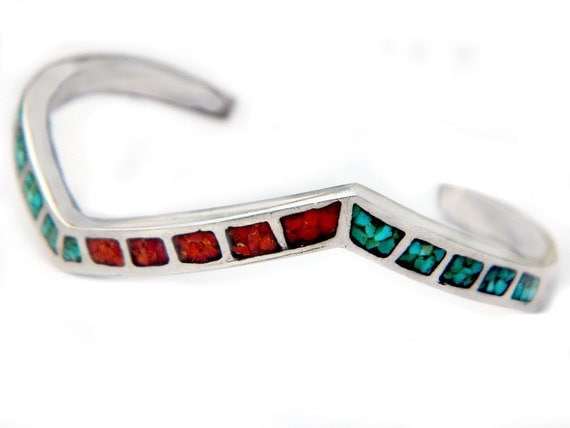 Navajo Jewelry making is the artistic expression of an indigenous culture in The America's with beginnings that have been found in the Oral and Traditional History of Native Americans for generations. 
The simple beaded jewelry that many tribes created as adornment, an expression of wealth or position in a tribe, and traded for goods and services, have been found throughout ancient and traditional lands once occupied by Native Americans. Simple Shell or Bone Necklaces, strung on sinew, thousands of years old, testify to a culture that has created beauty for centuries. Adornment for ceremonial items, clothing, horses, and bodies has always been a natural and creative art for Native Americans. The creation of Beads, originally from simple Bone or Shell, rough and natural, advanced to the shaping of Stones into Heishi Beads. Hand ground Turquoise, Coral, and Shell were fashioned into tiny discs, known as Heishi, and made into Jewelry Necklaces, Bracelets, and other adornment.
The Native American Peoples of The Santo Domingo Pueblo in New Mexico have a distinguished history of Heishi Bead Jewelry making. The Santo Domingos cling strongly to traditional beliefs, following the creation of Beads established by the Anasazi. Revered and Admired for their skill in Creating Traditional Beaded Jewelry, Authentic Santo Domingo pieces are highly coveted and sought after. Today, many artisans at Santo Domingo are renowned for their Heishi and Turquoise Jewelry, and they continue to sell these wares at tourist locations.                            
                       Santo Domingo Heishi Necklace
Silver Mining & The Influence Of Mexico

The Mining of Silver began over 5000 years ago. In the area of Anatolia, modern day Turkey, the first major source of Silver was mined. The resource provided Craftsmen throughout Asia Minor the Precious Metal they needed to create Old World Silver pieces. Because Silver has been known and valued as an ornamental and coinage metal since ancient times, it is believed that Silver mines in Asia Minor were probably worked before 2500 BC.                                Ancient Greek (Asia Minor) Old World Silver Coins
Fast forwarding through the History of Silver Mining, we come to the pivotal event of The Spanish conquest of The New World. It led to the mining of Silver that eclipsed anything that had come before that time. Between 1500 and 1800, Bolivia, Peru, and Mexico accounted for more than 85 percent of World Silver Production and Trade.
It was, in fact, Mexico Silversmiths who excelled in the Art Of Silver Jewelry Making. Today, Mexico Silver Jewelry Makers have given us some of The Finest Silver Jewelry in the world. While Mexico Jewelry Making had been established before the arrival of the Spaniards, the Spanish discovered the rich mineral wealth of Mexico with vast lodes of Silver and within one year after the conquest, in 1521, Hernan Cortes was staking his Silver Mining claim in Taxco, then called Tlachco.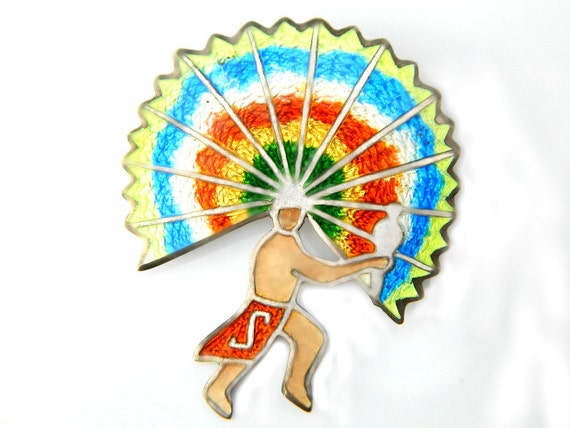 JF Jeronimo Fuentes Sterling Silver and Enamel Masterpiece in vibrant colors. A Dancing Warrior with a Rainbow Headdress created by Jeronimo Fuentes, Marked Eagle 1. This Rainbow Warrior is a Beautiful example of Taxco Silver and Enamel artistry inspired by Margot de Taxco and executed by one of her finest silversmith's. The 'JF' signature is often confused with artist Jose Frederico. Documented in The Little Book Of Mexican Silver Trade and Hallmarks by Bille Hougart, the Eagle 1 Mark was used by Jeronimo Fuentes who joined Margot de Taxco's silver shop, and followed as one of her successors. Jose Frederico used the Eagle 3 Mark, and the Eagle 1 Mark was used by Fuentes on early Margot pieces. After her shop closed, Margot allowed a few of her former silversmith's to use selected molds of her designs.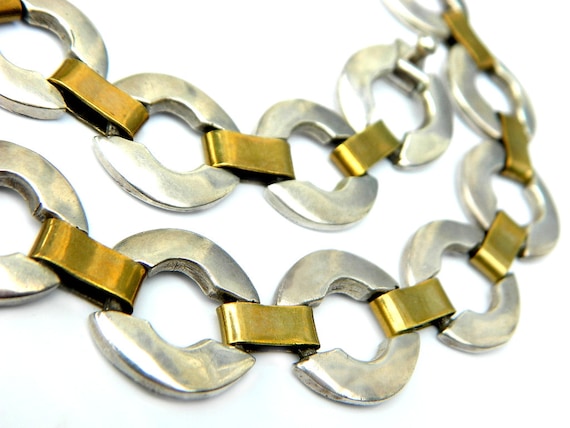 Statement Sterling Silver Necklace, Taxco Mexico. Modern Industrial Silver and Nickel Mixed Metal Beauty! Large Modernist Circles, each at 3/4" diameter, are linked together by Bronze colored Nickel connectors. Strong and Substantial, this Modernist Taxco Necklace is Fabulous at 125 Grams weight.
Taxco was founded as a colonial city in 1529, with 3 Spanish Miners who in 1531 founded the first Spanish Mine on the North American Continent.
By the end of the 16th century, Silver from Taxco had spread from Spain all across Europe, and Taxco became world renowned for its wealth of Silver and Silversmiths. Taxco Mexico Silver Jewelry is considered to be The Finest In The World.
The First Generation Of Navajo Silversmiths
Possible Photo Of Atsidi Sani The First Navajo Silversmith 
Believed to be the First Navajo Silversmith, Atsidi Sani learned his craft from the Mexican Silversmiths. In 1865, he was introduced to Silversmithing and The Art Of Najavo Silver Jewelry Making was born.
Little is known about Atsidi Sani. He was born near Wheatfields, Arizona, around 1830. To his people, he was known as Atsidi Sani, which translates to "Old Smith," and to the Mexicans he was known as Herrero, which means "Iron Worker." He was also a Medicine Man, Spiritual Leader, Ceremonial Singer, and a Navajo Chief. Some of his early Silver work consisted of Conchas, Bracelets, and a variety of other Jewelry pieces. Once Sani became skilled enough in working Silver, he passed on his knowledge of Silversmithing to his four sons, Big Black, Red Smith, Little Smith, and Burnt Whiskers.
Atsid Sani's most important contribution was sharing his knowledge in his community. His first students were probably his four sons. He was, for a time, a paid teacher who taught many Navajos the Art of Silversmithing. One of his most successful students was his younger brother Slender Maker of Silver who used Silver and Stone to create several interesting Jewelry Artworks that advanced Navajo Silver Jewelry techniques.  
Atsidi Sani lived a long life. Chee Dodge, a Navajo Tribal Leader, spoke of Sani, living near Washington Pass, which was not far from where he lived. According to Dodge, Sani died around 1918 and "must have been over 90 years old" at the time of his death.

                               Navajo Silversmith "Slim" Bae-ie-schluch-aichin Slender Maker Of Silver
Photographer: Ben Wittick
Date: 1885?
The First Generation of Navajo Silversmiths, taught by Atsidi Sani, included his four sons and younger brother, Slender Maker Of Silver.
In the Early Years, the Navajos created simple Silver bells and buttons. These were worn as ornamentation, or traded among local Tribes for goods and services. To the left are Beautiful Examples of Antique Navajo Coin Silver Buttons.
The early pieces of Navajo Jewelry were crude, heavy, flat and plain. The Silversmith's tools were primitive and few: awls, cold chisels, hammers and rough files. Silver was obtained by melting U.S. and Mexican coins into ingots, then pounding them into workable sheets.
(L) Navajo First Phase Coin Silver Ingot Ring 1870 
(R)Navajo Silversmith
Atsidi Chon, another early Silversmith, and Slender Maker Of Silver are both considered to be the first to set Turquoise in Silver around 1878. Grey Moustache, who was a student and the great-nephew of Sani, tells the Story in John Adair's Book ''The Navajo and Pueblo Silversmiths'.
The arrival of the Transcontinental Railroad changed everything. With the Railroad came an influx of tourists, traders, The Fred Harvey Company, and better tools. Saws, shears, dividers, fine files and emery paper aided Silversmiths in creating more refined pieces. Decorative stamps were copied from Mexican leather workers and the previously plain, Silver bands were now stamped and punched.
The Railroad changed the influence and commerce of Navajo Jewelry. In the Early Years, Silver Jewelry was worn for personal adornment, traded with neighbors and pawn shop merchants, given as gifts for newborns, brides, and special occasions. The Railroad brought new opportunities for The Navajos, and those opportunities expanded under the influence of The Fred Harvey Company.
 The Fred Harvey Era
The First Fred Harvey House Topeka, KS 1880
Fred Harvey (1835-1901) was a Trailblazer. As the owner of several restaurants and hotels alongside railroads, he became a leader in promoting tourism of the American Southwest in the late 19th Century.
In 1878, Fred Harvey signed a contract with the Santa Fe Railway (also known as the Atchison, Topeka & Santa Fe) to operate small restaurants at railroad depots along the railroad's route.
The Fred Harvey Company became a marketplace for Southwestern Jewelry. Indian Arts and Crafts were sold to tourists and The Fred Harvey Era of Native American Jewelry began.
Fred Harvey died in 1901, but his legacy was preserved and carried on.
Minni Harvey, Fred Harvey's daughter, and Herman Schweizer (L), a German immigrant, became one of the largest collectors of American Indian Art in the world.
Herman's claim to fame with The Harvey Company came just after he had been appointed in charge of the Coolidge New Mexico eating house on the Santa Fe Railroad. In his spare time, Herman had roamed the Navajo and Hopi reservations in search of trinkets or curios to sell at the Coolidge restaurant. Minni Harvey was aware of the popularity of Herman's curios at the Coolidge restaurant and encouraged him to expand his curios to other Harvey establishments.
                                                               The Indian Building next to The Alvarado in Albuquerque,NM
With Minni Harvey's urging, the company took on the Indian Curio Trade and established The Fred Harvey Indian Department in 1901. The Fred Harvey Indian Department opened their building at the Alvarado Hotel in Albuquerque, New Mexico. 
1927 Postcard of The Indian Building Exterior
Herman had spent over 16 years in the Southwest and had developed an extensive network of personal relationships and business dealings, hiring Navajo and Hopi craftsmen to create Indian jewelry for The Harvey Company.
1930 Postcard Interior of The Indian Building
Herman created The Harvey Style Indian bracelet. He found that the large turquoise nugget bracelet did not find favor with the Victorian traveler. He had the Indian craftsmen reduce the size of the traditional Silver pieces to appeal more to the traveling tourist.
At left is an Example of a smaller Harvey Bracelet Sold by @JewelryQuest on Etsy
Herman Schweizer spent most of his time with The Harvey Company developing the Indian Building in Albuquerque and building networks of the curio trade for The Harvey Company. Perhaps, one could easily say, that almost every trader in the Southwest was on contract or employed by The Fred Harvey Company at any one time during the history of the company.
Herman did not stop at curios but began buying collections from the various traders to showcase in the Indian Building in Albuquerque. For over five years, Herman engaged in acquiring the finest of the Southwest Indian Art. The author, Frank Waters, indicated the "F. H. Indian Building at the Santa Fe Station in Albuquerque New Mexico was equal to any modern museum and all transcontinental passenger trains were stopped there."

Today, Fred Harvey Era Jewelry is widely collected and sought after.