Read more about collecting old typewriters. Here is a great site with links to resources and  books you will enjoy.
http://www.typewritercollector.com/
Antique Typewriter
Collector Books
and other resources
The Five Pound Secretary / Sexy Legs and Typewriters, both by Paul Robert, with co-author Rob Blickensderfer for The Five Pound Secretary.  The Five Pound Secretary tells the story of an American inventor, George Canfield Blickensderfer, his dreams and the harsh reality. It is based on original research and contemporary source material. ISBN: 90-74999-05-0.   Sexy Legs and Typewriters depicts pretty women and typewriters as they appeared together in vintage advertising; humorous photo series and postcards; glamour photos; and erotica. This richly illustrated book covers all these areas, from the first woman to appear in a typewriter ad to a large collection of nudes from all ages, 112 pages with 150 photos. ISBN: 90-74999-06-9.   Price: 20 Euros ea. Contact: Paul Robert, type@xs4all.nl.
---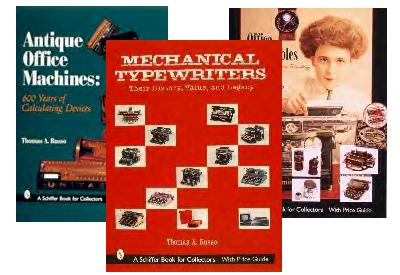 Antique Office Machines, Office Collectibles and Mechanical Typewriters, three books by author Thomas Russo and published by Schiffer Books.  This series of books cover just about all aspects of office collectibles from office advertising memorabilia through mechanical office machines.  Well illustrated and documented. Priced between $39 - $59.
---
The Typewriter,  An Illustrated History by Dover Publications, Mineola, NY 11501, Published in 2000.  This is a reprint of the original 1923 Typewriter Topics - History of the Typewriter, on the fiftieth anniversary of the invention of the typewriter.  Approximately 115 pages filled with history, advertising and images of historic typewriters.  A first hand recollection of what the 1920s typewriter industry recalled about its early days.  A Great Book!  Priced at about $15.
---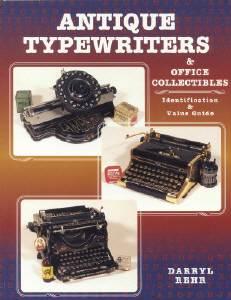 Antique Typewriters & Office Collectibles by Darryl Rehr, 1997.  Includes typewriters, adding machines, check writers, ribbon tins and other office collectibles.  Photos, some history and a general flavor for the hobby of collecting this sort of  memorabilia.   Available on-line and in most book stores at a cost of about $19.
---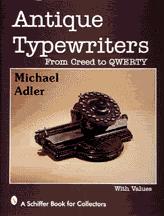 Antique Typewriters, From Creed to QWERTY by Michael H. Adler, 1997.  Michael Adler's second effort at writing the history of the typewriter.  Includes many photos, some in color and additional history not included in his first effort on the subject.  Retail price is about $59 and is available at most book stores.
---
American Typewriters - A Collectors Encyclopedia by Paul Lippman, 1992. Mr. Lippman compiled a wealth of information between the covers of this book. Contains illustrations of most early American typewriters and represents a lifetime of collecting knowledge and information.   One of my personal favorites. Unfortunately, it's no longer available through normal distribution channels.  Look for it where you'll find used books. 
---
The Typewriter Legend edited by Frank T. Masi, a 1985 promotional publication published by Matsushita Electric Corp. of America, otherwise known as Panasonic, when they were in the business of manufacturing typewriters and sought to establish themselves as a force in the typewriter industry. This book contains 124 pages and 116 photographs including many typewriter rarities. Try Panasonic Industrial Company in Secaucus, NJ. - ISBN 0-9614386-0-6 .
---
Century of the Typewriter by Wilfred A. Beeching, 1974. The author states in the preface, "After much sifting and sorting, I was able to produce this book, a comprehensive history of typewriters...It can be read as a story from cover to cover, or used for reference purposes..." This book is loaded with photographs. SBN 434 90120 2 .
---
The Wonderful Writing Machine by Bruce Bliven, Jr., 1954.  A classic from the early days of typewriter collecting.  It's out of print, but worth taking the trouble to find.  Check your local library for this one.
---
Old Typewriters by Duncan James, Shire Publications No. 293, part of a series on antiques & collecting. Old Typewriters covers the history and evolution of the typewriter with many photos and illustrations from European typewriter collections. Contact: Shire Publications Ltd, Cromwell House, Church Street, Princes Risborough, Buckinghamshire HP27 9AJ, UK
---
The Carl P. Dietz Collection Of Typewriters by George Herrl, Publications In History No.7, Published by the Board of Trustees, Milwaukee Public Museum in 1965. This publication contains one hundred pages of photographs of the Dietz Collection of typewriters which was assembled in the 1930's and includes many typewriter rarities seen nowhere else. Supplies of this book are no longer available.
---
Woman's Place Is at the Typewriter by Margery W. Davies, 1982. Woman's Place explores office work and office workers from 1870 - 1930, the period which saw both woman and typewriters enter the office. Temple University Press ISBN 0-87722-368-8
---
The Writing Machine - A History of the Typewriter by Michael H. Adler, 1973. This book represents a remarkable effort to document every early typewriter that ever existed. Out of print but your local library should have a copy of this one.
---
Antique Check Writers: - A Collector's Guide From A to Z by Michael A. Brown, 1999. This previously undocumented field has long been in need of this type of book and I can think of no one better than Mike to put it together. It is chock full of photographs, patent drawings, dates, biographies of inventors and much more (including price ranges)! This is a completely original, comprehensive research and is new to the field of office machine collecting.  Contact:  Michael A. Brown, PO Box 52607, Philadelphia, PA 19115.  215-934-7998. email: typex1@aol.com
---
The History of The Typewriter in the United States From 1933 Through 1977 by Ed Quiring, 1979. This book concentrates mainly on typewriters manufactured during the period specified in its title but also includes a chronological listing and compilation of information on early typewriters prior to 1933. This manuscript was originally submitted as Mr. Quiring's doctoral dissertation and is one of the lesser known typewriter resource books. The reproduction of photographs in my copy is poor but the book itself contains an abundance of typewriter information. It can be obtained from University Microfilms International, 300 N. Zeeb Rd., Ann Arbor, MI 48106. Telephone (800) 521-0600 or (313) 761-4700. I believe the publication is #8011576.